Washington County Elder Care located at 1223 Swan Drive in Bartlesville held a lunch hour, drive-thru fundraising event on Thursday from 11:00 a.m. and 1:00 p.m.

Development Director Angie Thompson said the inaugural event will help underwrite program costs that support the organization's mission of keeping senior adults over the age of 60 healthy and independent in their own environments. When they were putting the event together, Thompson said the phrase that kept coming up was "The gift you give today may be the gift that impacts you or your family tomorrow." She said we all need to think about the gifts we give today may be something that is used for good tomorrow.

Over 100 people registered for Thursday's event. Thompson said that's exciting news considering they saw two to four people per vehicle. She said everything raised during the fundraiser will directly impact Elder Care.

Of the 875 clients Elder Care serves each month. Thompson said 35-percent percent of the families fall below the poverty line or live in rural communities. She said the funds will help their caregivers when they go out to homes in rural communities.

Currently, Elder Care's caregiving staff report a 25-percent increase in mental health issues among those isolated due to the pandemic.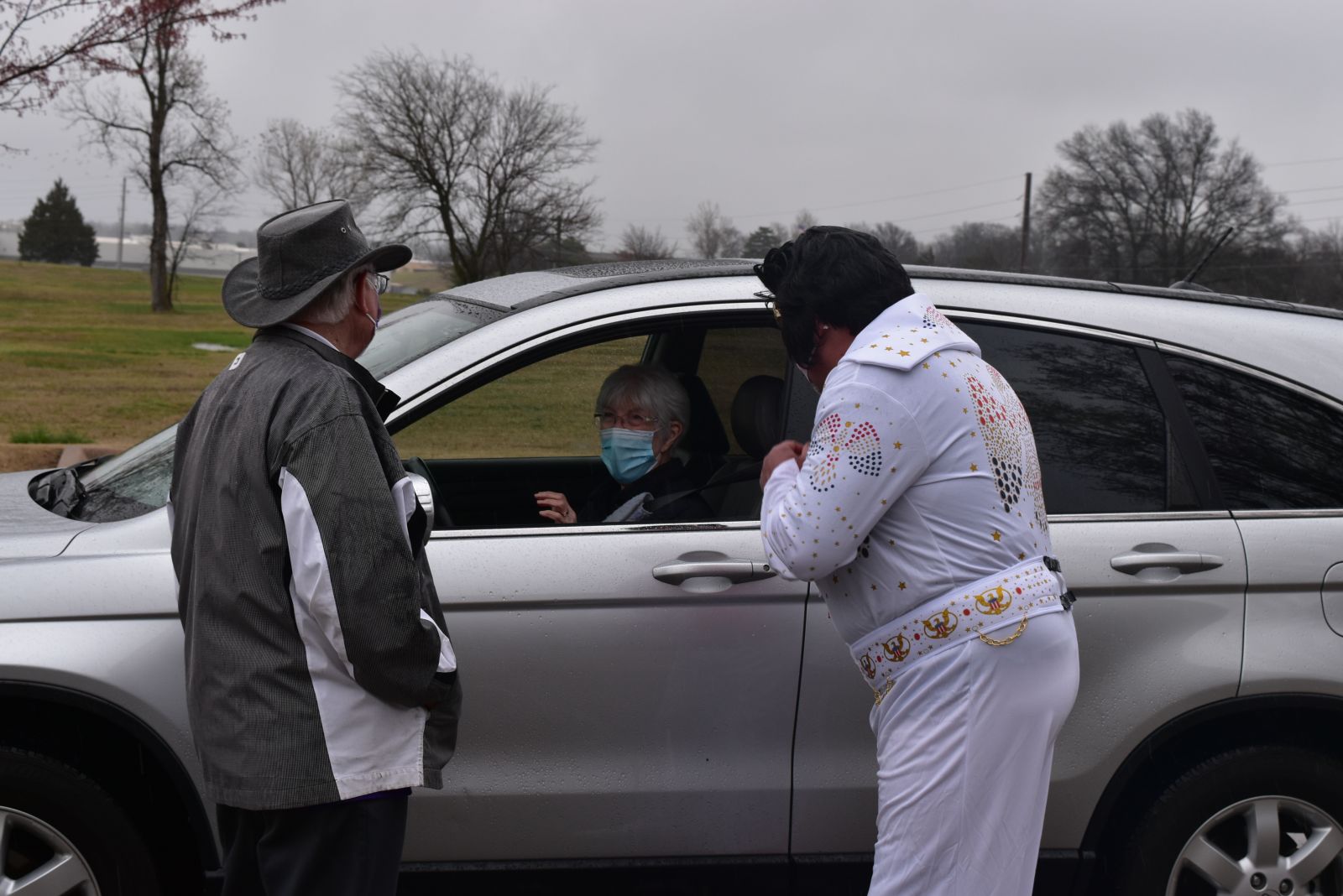 Cordell Rumsey, Elder Care's Executive Director said Elder Care is the friendly face making health checks or providing services for those who do not have a family member to help them. He said there may be the only connection an individual may have with the outside world.

To bring a smile to everyone's face that came through to support Elder Care, Rumsey played the part of Elvis and greeted those driving by. He brought great joy to all on a rainy Thursday.

The organization hopes the drive-thru raised awareness and additional resources to directly impact those affected.

Shortie's Grille offered a Boxed Lunch to Go for those that donated $35 or more.

Thompson thanked all the sponsors for the event, including ARVEST Wealth Management, Diversified Systems Resources (DSR), Comforting Hands Hospice, Green Country Village, Dink's ConocoPhillips, Chick-Fil-A, and Shortie's Grille. She also thanked all those that braved the rain to show their support.

Elder Care is a 501(c)3 organization whose programs are underwritten in part by individuals, businesses, corporations, foundations, and the Bartlesville United Way.