Tears filled Courtney Reed's eyes last week as she waited outside the Jennings nursing home where her great-grandmother lives.
The tears streamed down Reed's cheeks a few minutes later as she embraced Vivian Fontenot, 101, for the first time in more than a year.
"Never in my life have I been this long without touching my Mawmaw," Reed said. "You don't know how hard it was to only see her from behind a window."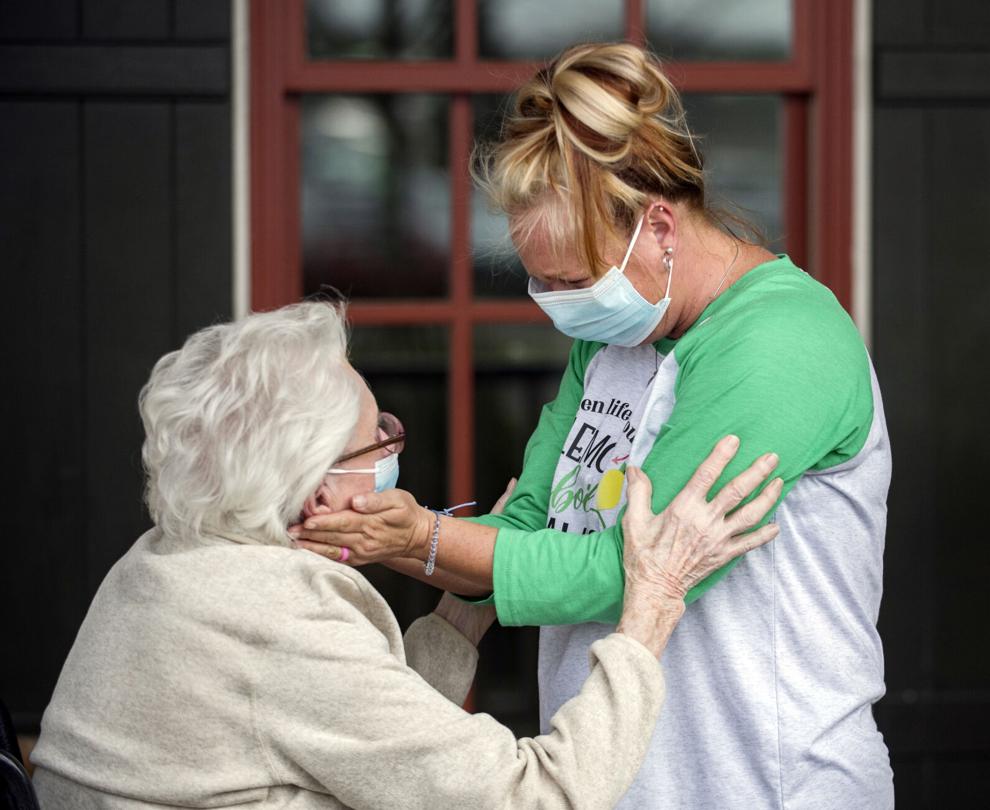 Reed and Fontenot held tight for more than a minute before pulling apart, hands held, to take a long look at each other. A few moments later, they held each other's smiling, teary faces in their hands and embraced in another hug.
Both had made it through the pandemic without getting sick, but they found it hard to follow state guidelines meant to keep more vulnerable people healthy as the novel coronavirus spread through congregate housing facilities. 
"I know. I know," Fontenot said as she consoled her great-granddaughter. "I just tried to adapt myself to that way of living. I'm old enough to know that things happen and accept them as they come. Everybody has been so kind to me. They respect old age."
Josh Billeaud, administrator of Camelot Brookside in Jennings, said it's been an emotional week for the staff as well as the residents and their loved ones.
"Words can't describe the emotion you felt, seeing people finally able to hug their loved ones again," Billeaud said. "It's something nobody ever expected to happen, much less signed up for, so to see it come full circle a year later is absolutely incredible."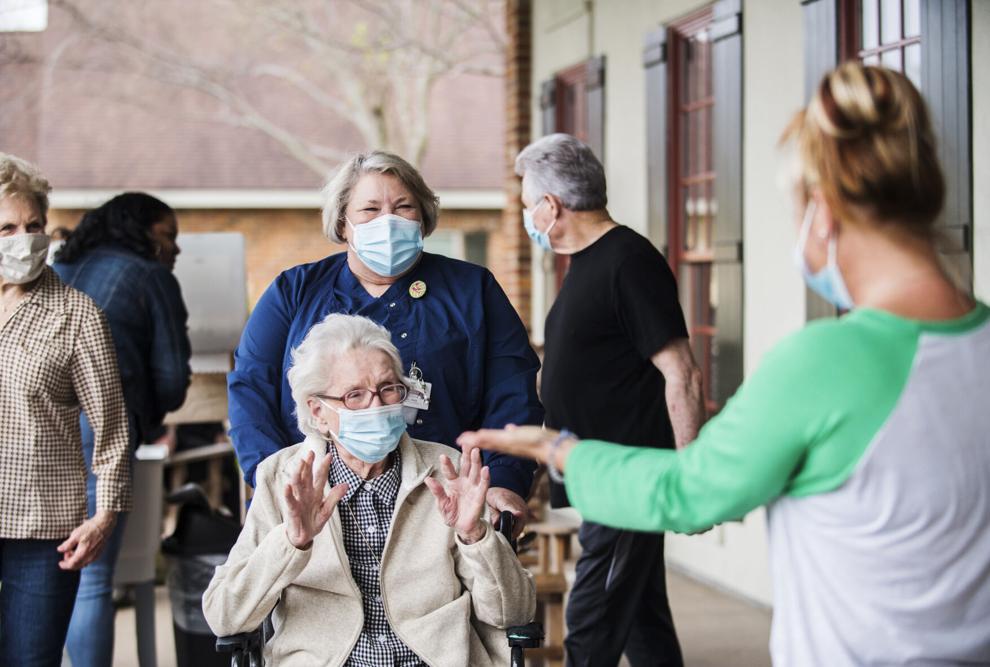 Louisiana's long-term care facilities were under strict lockdown from March until September 2020. Even as restrictions eased last fall, physical contact between residents and visitors was still prohibited until recently. 
The Louisiana Department of Health announced earlier this month that it would follow federal recommendations to further relax restrictions at nursing homes as the rate of new COVID-19 cases steadily declined and vaccination rates among residents, staff and the community at large continued to climb.
Dr. Susila Shanmuganathan, medical director of Camelot of Broussard, said she has been looking forward to the time when her patients could safely resume in-person visitation with their loved ones.
"That connection and touch with their loved ones is very important for their mental health and their wellbeing," Shanmuganathan said. "When taking care of patients in a long-term care facility, you're not just dealing with medical conditions. You're dealing with mental health as well. With visitation opening up, you kind of lift up that mental health component of your patients' general wellbeing and it just amplifies their overall quality of life."
COVID-19 cases surged early on in the pandemic in Louisiana's long-term care facilities, with more than 1,000 residents dying from the virus by the end of May, according to state Health Department reports. 
There have been more than 15,000 COVID-19 cases among residents in Louisiana nursing homes resulting in more than 2,700 deaths, according to this week's Department of Health data.
Doris Guilbeaux was one of those residents who tested positive for COVID-19. Guilbeaux, 90, had no symptoms of the virus and isolated from others at Camelot of Broussard after testing positive last summer.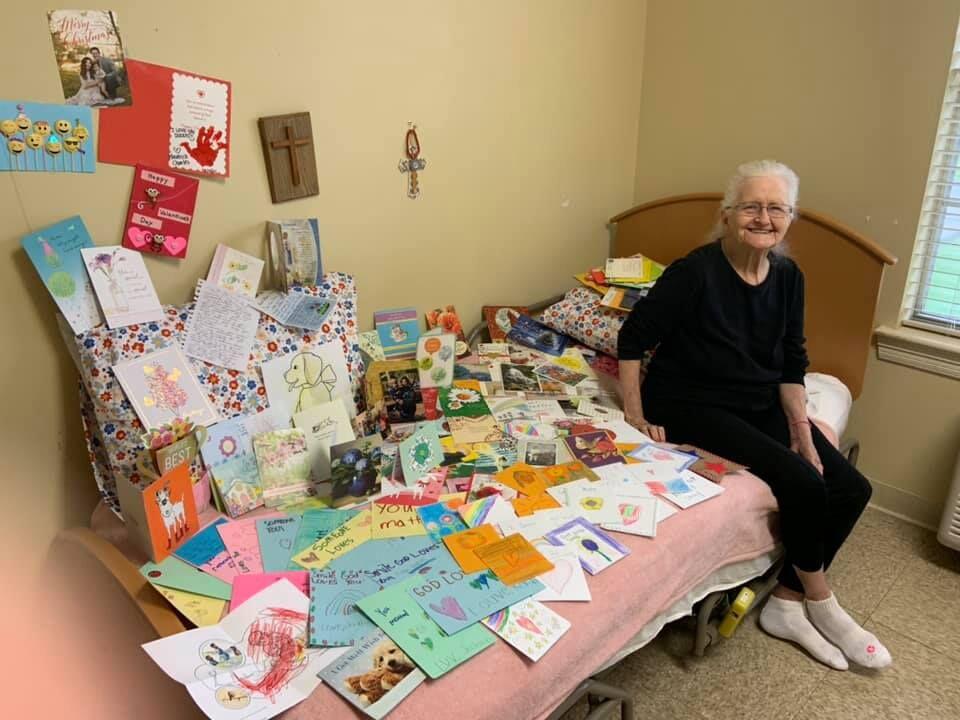 Because she moved into the nursing home after lockdown began, Guilbeaux has not known life in a long-term care facility outside of the pandemic era. Handmade cards from students and strangers made all the difference at a time when her daughter and other loved ones could not visit in person.
"Please send an old lady some cards because I really, really enjoyed my cards," Guilbeaux said in a March 24 video shared on Facebook. "I sure didn't think I had many friends, but I see now that I have plenty friends."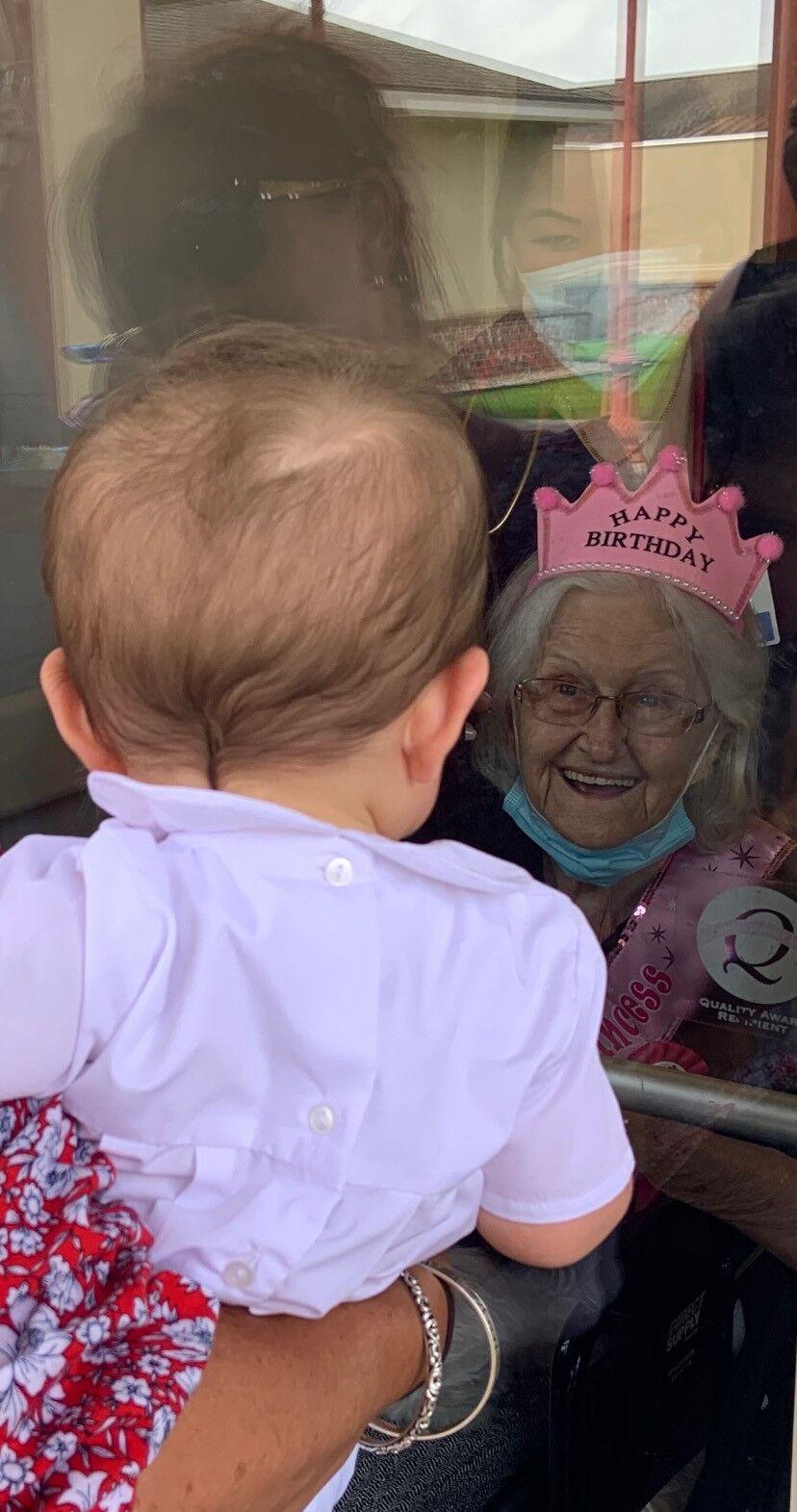 Rena Guilbeaux Courville finally embraced her mother again last week after months apart. Her mother described that moment as "the luckiest day" of her life.
Guilbeaux had lived in a home on Courville's property at the start of the pandemic. It was only after suffering from an injury last spring that Guilbeaux required additional care in a specialized facility.
When Guilbeaux finally embraced her daughter again last week, she called it "the luckiest day" of her life. Courville listened to her mother's stories as they organized her room.
"To be able to hug my mom one more time? Oh my God," Courville said. "It was just the best reunion ever. Ever. She and I laughed. She told me stories about the past. I can't wait to go back again."